IBIS MOTORCYCLE RIDING BOOTS (WATER-PROOF
SNAPSHOT:
Available in two levels of water-proofing
– Water Proof construction (Please see video below of 2 hour Water Proof demo for IBIS model)
– Water Reistant
12 inches tall
Velcro Fastened
Light reflector at heel side
Ankle protection
Shock absorption near the seat region (ie. heel side)
Steel toe protection
Highest grade abrasion & water resistant leather
Smooth leather finish including tongue area
Well designed flex points makes walking comfortable
High degree anti slip sole
Ultra – comfy bounce back foam in-socks (anti-fungal)
Shin protection
USAGE:
This all-weather, all-terrain motorcycle riding boot is the perfect for wearing on long trails and off-roading.
Abide by the following instructions to the point and you will get your foot size:
APPARATUS REQUIRED: A4 size blank paper, Pen, Measuring Ruler (Scale)
1.Identify the 'estimated size' of your foot by using your current shoe size (eg. Size 8 or Size 9 etc.) |For this explanation we will use size 9 as an example|
2.Get the corresponding length (in cm) of the following sizes from the size chart give below. – 'estimated size', 2 sizes above your 'estimated size' & 2 sizes below your (Total 5 sizes) – |For our example we will get the length of
1. Size 9 = 27.1 cm (estimated size)
2. Size 10 = 27.9 cm (estimated size + 1)
3. size 11 = 28.8 cm (estimated size + 2)
4. size 8 = 26.2 cm (estimated size – 1)
5. size 7 = 25.4cm (estimated size – 2) |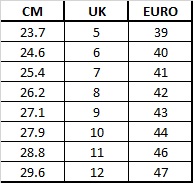 3. Take an A4 size sheet and mark the length, from the bottom of the sheet, of all the 5 sizes.
Reviews